GoClean is a meal delivery platform aiming to help health conscious Malaysians get a healthy meal, priced affordably, in a very convenient manner.
Who is GoClean?
GOClean Meals is a health-conscious and affordable meal solution for the busy at heart.
Focusing on nutrition dense ingredients, and good sources of protein, quality carbs, and good fats, most of the GoClean meals are BELOW 550 kcals and are designed specially to taste awesome!
Each meal is created and prepared under the guidance of a nutritionist, personal trainer and executive chef according to suitable macros across a broad spectrum of fitness goals.
They change their menu every day keeping customers excited for new health meals. Imagine that! Something different every single day. That's enough to keep even me from getting bored!
Every meal is freshly made in the morning for lunch and in the evenings for dinner. After selecting a preferred date, customers can view the menu for the day.
What makes GoClean perfect for someone trying to live healthy?
With all the convenient mamaks and fast food options around the office, I usually compromise on healthy dining options to go for the easily accessible, delicious, oily and fattening mee goreng or KFC fried chicken during lunch hour.
I always seem to forget that these albeit satisfying but nutritionally low meal options will hurt me in the long run.
But now that healthy deliveries are in the game, I think that GoClean fairs very well in terms of being a healthy, convenient and delicious, clean eating delivery option.
They didn't fail to impress in terms of flavor and service. Would actually say that GOClean gave a better experience than that of many other delivery services that I've tried.
They are punctual. They deliver extremely presentable and sumptuous gastronomical offerings, for a very affordable price!
What more could a busy girl, trying to eat healthy, ask for!
With such an affordable price, a convenient method of getting my food, and the daily array of interesting dishes, I find that healthy eating every day is starting to look extremely feasible. You can check our their daily changing menu here!
Five Must Tries at GoClean
GoClean Must Tries #1: POP PRAWN WITH HOMEMADE PESTO (RM15.90)
This dish did not just look mouthwatering, it was.
I would not normally expect a pasta dish with prawns to be a healthy option but GoClean makes it with just under 450 calories. Score!
This sumptuous meal is a base of spinach spaghetti, tossed with red baby cherry tomatoes, two variations of eggs for texture, an assorted colour of capsicums and a side of delicious pesto dressing.
The king of this dish has to be the succulent prawns, they stand out being the main source of protein of the dish. They were mildly seasoned with spices and herbs.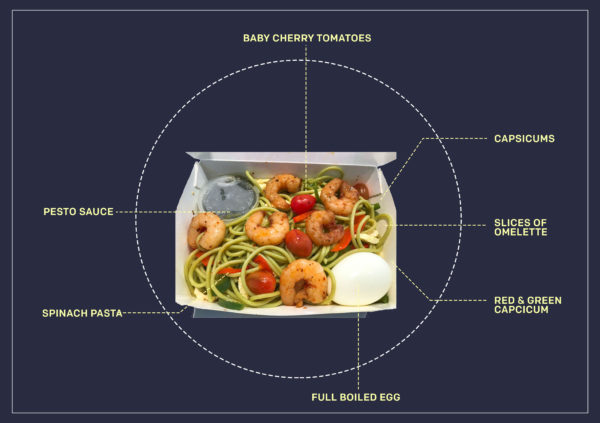 The two kinds of eggs that were served was an omelette sliced into thin pieces and a whole hardboiled egg. The omelette gave a ribbed texture in contrast to the smooth boiled version.
The capsicum was in fact soft instead of crunchy, infusing my senses with the fresh taste of pepper to compliment the taste of the pasta. Generous amount of pesto sauce! (herby fresh and not oily).
Clearly our favourite, will be having more this soon!
GoClean Must Tries #2: LEMON HERBS CHICKEN (RM13.90)
The Lemon Herb Chicken made me feel healthy just looking at it.
A tad bit plain without the sauce on the side though. This dish comprised of poached chicken rubbed with thyme and chili flakes. This dish was topped with a slice of lemon that not only provided an aroma of freshness but a light zesty flavor to the otherwise plain chicken.
It was served with a fried egg (less oil) and an assortment of sweet and crunchy sliced carrots, shallots, and capsicums.
The garlic sauce that was served to be drizzled over the entire dish was simply amazing. This dressing surely elevated the dish up a notch with its creaminess giving the entire dish depth.
An important note was that the right amount of garlic flavor was used so that it did not leave an unpleasant aftertaste in your mouth. Nicely done GOClean.
GoClean Must Tries #3: CHICKEN BIBIMBAP WITH HOMEMADE SAUCE (RM15.90)
Devouring a healthy rendition of an otherwise traditional bibimbap definitely made me feel adventurous diving into this dish.
It was based with fluffy brown rice, thinly sliced wakame seaweed with a nutritious assortment of vegetables as a salad. The salad comprised of thinly sliced carrots, found also in the conventional bibimbap and a handful of sliced purple cabbage that brought a rather crunchy twist to the dish.
A sliced egg omelette and a fried egg was added to complete this wholesome meal. What was paramount in this lunch box was its condiment that was profoundly flavourful. Even thinking about it now makes my mouth water.
This dressing was a sweet onion chutney that was garnished with white sesame seeds. The main source of protein was sprinkled with black sesame seeds going along with the whole Korean dish theme.
Creative and clean eating, check!
GoClean Must Tries #4: TRI-COLOUR QUINOA BOWL
The name given to this dish is most certainly apt as it looked gorgeous when I opened the lunch box due to the shear array of colours. It was a feast for the eyes.
Regrettably, the spectacle stopped at visuals. This quinoa dish was rather bland in taste, nonetheless being no doubt a healthy option for customers.
The poached chicken was garnished with finely chopped walnuts with a whole boiled egg and two orange slices. There were big portions of juicy steamed broccoli (no seasoning) and a few baby cherry tomatoes.
To go with this dish, was a tangy and sweet orange dressing. The dressing was a little too sweet for my palette. However, it was nice surprise to have the accompanying cubes of red dragon fruit that gave the meal a pleasant ending.
GoClean Final Verdict
To conclude, I think GoClean has done a pretty excellent job at providing nutritious and healthy food for customers.
GoClean has a subscription option for customers who are interested in 5 or 20 meal packages. They are capable of providing a larger quantity of meals known as the 'corporate package' and 'Healthy Food Buffet' to cater to groups of clean eaters.
So if you're looking to buck up your diet regime, look no further. This is a way to ensure that you have healthy and delicious food every single day under RM20!
In addition to that, the food prepared by GoClean is HALAL friendly which is certainly good news to the majority of the population!
For lighter snacks, GoClean also has sandwiches, protein cookies and protein balls.
How to order!
To order lunch meals, there is a cut-off time of 10am in the morning to allow enough time for the chefs to prepare the food. Two hours after an order has been placed, GoClean would send a confirmation email to the customer.
Customers can also whatsapp GoClean to know the estimated time of arrival of the meals. Food is usually delivered before 12.30pm every day. GoClean is flexible to accommodate a change in menu by a customer as well.
At this point of time, GOClean is unable to provide customization of meals for customers. However, they do encourage suggestion of favourite dishes and they will incorporate it into the menu. Cash on delivery or online banking transfers from all local banks are available.
Also, here's a really great tool for you guys to check your BMR, and also how many calories you should consume daily in order to gain or lose weight! 
Knowledge in this case is power! Fitness power!
Address: SHYANSTELL PLT. P1-015, The School Jaya One, 72A, Jalan Universiti, Seksyen 13, 46200 Petaling Jaya
Contact: 0167543621/0163288075
Email: gocleannutrient@gmail.com
We hope you benefit greatly from this article of Healthy Food Deliveries KL: Testing out GoClean. If you want more, here are some Surprisingly Affordable Healthy Food Deliveries in KL.
If you have a great tip on how to get fit and live healthy in KL, do share it in the comments below, however insignificant you think it might be.
Your tips might not even occur to others and may make a huge difference in the life of another.
So let's cultivate that Malaysian sharing spirit and help each other out in our universal strive for personal fitness!
For more tips and tricks on how to get fit, specifically in KL, subscribe and we'll send you useful advice, articles and videos to help you keep your fitness level up!
Welcome to this journey to better health!