I've been eating overnight oats pretty regularly for about two months now and it has done me wonders!
I usually have a jar for breakfast and one more for dinner if I'm not going out to eat with friends.
Improved bowel movement, staving off hunger pangs, weight loss, no decrease in energy levels. These are just some of the good things that these overnight oat jars have done for me.
Plus, they are a nifty option for convenient meals!
I bring them easily to work, and even if I don't fridge them for half a day, they do not go bad. All I have to do is re-fridge them before I consume!
So today, I'm gonna share my recipe with you!
If you're as I am, and are always on the go, too busy to cook full-fledged, wholesome meals, this is a healthy life hack that you're about to learn.
There are six BASIC ingredients to my usual overnight oats recipe, but today, because I'm doing it specially for you, I've decided to add an extra two ingredients to increase the nutritional content just for you guys.
Also, these ingredients I'm recommending are a result of plenty of trial and error 😊
They are based on my taste preference. I love how my final product now tastes (hence my eating them every day). But feel free to modify the ingredients as you so please. You'll have to experiment a little before you find your favourite overnight oats recipe.
Alright then, lets get straight to it!
Ingredients:
Rolled Oats
Chia Seeds
Milk (Yarra Farm Milk)
Yogurt (Farm Fresh)
Moringa Leaves Powder
Raisins
Bananas
Maca Powder
Easy Overnight Oats Recipe Step 1: Oats
Get a glass jar and fill up one third of it with rolled oats. Do not use instant oats.
You may be wondering what the heck rolled oats are.
The oats you usually see in the market are instant oats, whereby manufacturers steam and grind oats into smaller pieces so they cook faster and have a more creamy and smooth texture.
There is not much difference in terms of nutritional value, both rolled and instant oats are rich in beta-glucan, which helps lower cholesterol absorption.
However, instant oats have a slightly higher glycaemic index (GI) due to their more refined nature. This means you digest them more easily than you do rolled oats, but they do not keep you full as long as rolled oats do.
And I have felt the difference consuming both instant oats and rolled oats. Rolled oats keep me fuller for longer so I don't eat as much in my next meal cause it staves off the hunger pangs.
You're welcome for this life hack!
Easy Overnight Oats Recipe Step 2: Chia Seeds
Add to the rolled oats one tablespoon of chia seeds. (You may need two or three if your jar is big)
One of the best ingredients in this recipe, chia seeds are an amazing source of omega-3 fatty acids, which helps raise HDL cholesterol (the 'good' cholesterol that guards against heart attack and stroke).
There are also filthy rich in antioxidants, and provide fibre, iron, and calcium, not to mention help in bowel movement because of their soluble fibre content when soaked in liquid!
Easy Overnight Oats Recipe Step 3: Moringa Leaves Powder (Optional)
Add half a teaspoon of Moringa leaves powder into the jar.
This one is a unique ingredient that my dad made from Moringa leaves. So, I'm not sure how to advice you on how to get access to it.
But if you'd like to order some, I can ask my dad to make and ship it to you for a reasonable price, he loves promoting the healthy lifestyle and I don't think he'll mind.
Just give me a call or an email. You can find the details on the Contact page.
But here are some benefits of Moringa leaves.
It is a powerhouse of nutritional value! An energy boost not based on sugar, so it gives out sustained energy, with no crashes.
Moringa also helps lower blood pressure and aids sleep.
Also, it has detoxifying powers! Moringa acts as a coagulant and attaches itself to harmful material and bacteria and this works in purifying water, so it is believed that this process takes place in the body too.
Also, according to Pure Healing Foods, the leaves of Moringa Oleifera are nature's multi-vitamin providing 7 x the vitamin C of oranges, 4 x the calcium of milk, 4 x the vitamin A of carrots, 3 x the potassium of bananas, and 2 x the protein of yogurt. On top of that, science is proving Moringa to be a power house of nutrients; 90 are known to date, with the possibility of more yet to be identified. If that were not enough, Moringa has no known impurities, with no adverse reactions ever recorded.
Dunno bout you, but I'm definitely sold. So yea, adding this to my daily intake of overnight oats.
Easy Overnight Oats Recipe Step 4: Maca Powder (Optional)
Add one tablespoon of Maca Powder into the jar.
Alright, this one I KNOW where to get. But before I tell you, a little bit about Maca Powder.
Maca root (Lepidium Meyenii) is exclusively grown in high altitudes in Peru, used by native Peruvians for hundreds of years, dating back to the ancient Incan civilisation, known for their advanced knowledge of healing and natural remedies.
They used this superfood not only for its high nutritional content, but for its many health benefits such as promoting hormonal balance, enhancing sexual performance and libido, relieving post-menopausal symptoms and increasing energy and athletic performance.
Maca is rich in protein, carbohydrates and fibre – but as a supplement it is incredibly nutrient dense – making it a newly-found favourite among modern-day health conscious folks.
So the Maca root powder I'm using is SpoonHealth's Organic Gelatinised Maca Powder. And it packs a nutritional punch with 8 essential amino acids, vitamin C, B (2, 3 & 6), calcium, potassium, iron, and copper.
This root has also been dubbed the "Peruvian ginseng" due to the fact that, like its Chinese counterpart, it is an adaptogen. Adaptogens are non-toxic natural substances that improves your body's ability to adapt to stress, be it environmental or internal.
At SpoonHealth, the Maca root is ground into a powder then goes through a gelatinised process that removes the starch, making it more soluble than conventional Maca powder with higher nutrient count that is easier to digest. (Note : "Gelatinization" does NOT refer to gelatin, and no animal-derived ingredients were used in producing any SpoonHealth products, making it vegan-friendly as well.)
SpoonHealth's Maca Powder is highly versatile and soluble, making it a great addition to your smoothies, yoghurt, oatmeal, or porridge. It can also be added into your cooking for power-packed pancakes, cakes, cookies, soups and muffins.
Just two tablespoons a day is needed to reap the many benefits of Maca.
So, where can you get it? If you're living in Malaysia, great news!
SpoonHealth's Maca Powder is sold in 150g and 300g jars, priced at RM69.90 and RM116.90 respectively at all Caring Pharmacies and your neighbourhood natural wellness stores, or buy it online here.
Easy Overnight Oats Recipe Step 5: Milk
Add milk enough to fully immerse the rolled oats, powder and chia seeds. Then stir the mixture around until the spoon moves through the mixture easily. If difficult to push the mixture around, add more milk. At this moment, the jar should be about slightly more than half filled.
Use good quality milk here. It will determine the taste of your overnight oats after.
Avoid low fat milk, HL Marigold milk and UHT (those milk in the square cartons) like the plague, it really screws up the taste of the overnight oats. I learned this the hard way.
If what goes in your overnight oat jar are good quality ingredients, you'll have a very tasty meal to enjoy later on.
Easy Overnight Oats Recipe Step 6: Yogurt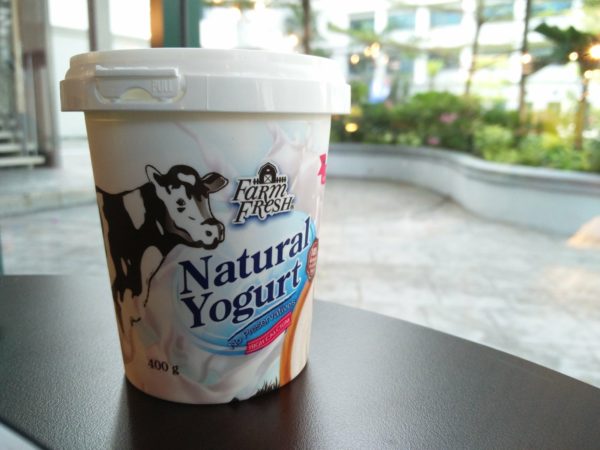 You have about half of the jar space remaining. Put in yogurt till it's level reaches the next quarter of the jar.
Alright, very important to use GOOD yoghurt here. Like the milk, it determines the taste of the overnight oats later on. I've tried many yoghurt brands and found that one of the best is Farm Fresh, but don't go for the low fat one. Regular ones will do.
Easy Overnight Oats Recipe Step 7: Raisins
Add a tablespoon and a half of raisins.
You're nearly done! Just the toppings left!
You can use whichever raisin brand you prefer, I'm not particular at all for this step. As long as it has no added sugars, I'm good. The raisins are just to add a little natural sugar to the overnight oat jars, so you don't get too bored of the bland taste.
Who says healthy food has to taste bad?
Easy Overnight Oats Recipe Step 8: Bananas
Cut banana slices out of half a banana (or a whole, if it fits into your jar) and top the whole jar off with banana. And you're done!
One of the simplest yet delicious additions to the overnight jar.
You can choose to do this step immediately after the raisins, OR when you're about to consume your overnight oat jar. People like it either way. Try them both our and decide for yourself!
Easy Overnight Oats Recipe Step 9: Fridge it
Cover your jar and leave it in the fridge overnight.
If you're in a hurry, you'll be able to have it after two hours!
Easy Overnight Oats Recipe Step 10: Eat it!
It's important to mix up all the ingredients uniformly before you take a bite!
I hope you'll enjoy the overnight oat jar as much as I do!
We hope you benefit greatly from this article of Easy Overnight Oats Recipe. If you want more ideas on healthy and convenient breakfast recipes you can get or make in KL, here are some 🙂
If you have a great tip on how to get fit and live healthy in KL, do share it in the comments below, however insignificant you think it might be.
Your tips might not even occur to others and may make a huge difference in the life of another.
So let's cultivate that Malaysian sharing spirit and help each other out in our universal strive for personal fitness!
For more tips and tricks on how to get fit, specifically in KL, subscribe and we'll send you useful advice, articles and videos to help you keep your fitness level up!
Welcome to this journey to better health!