If you're working in Gardens North Tower or are stopping by Mid Valley for a quick shop, we're pleased to inform you that one of our favourite healthy food restaurants, Agrain, just set up shop here!
Agrain (because you'll want to come back again and again) strives to offer the best of both worlds, making healthy eating delicious and affordable. We're talking about a hearty, healthy lunch under RM14, in freaking Mid Valley!
What makes Agrain Special
The meal you'll have here sorta ticks all the boxes for an Asian-approved healthy meal.
It's warm and freshly cooked (unlike the cold and unwelcoming salads the notion 'healthy' usually goes with), it's full of familiar Asian ingredients, it has a base of grains (which is what we Asians are used to, rice rice baby!) and it's not pricey, so it can be something you can eat almost every day of the week.
The portions here are pretty decent.
At Agrain, you basically choose the bowl size you want. There's the Petit at RM13.90, the Regular at RM16.90 and the Large at 20.90. I got the Large and I could not finish it, so would say that the Petit is the best portion for a satisfying but not overindulging helping.
Convenience and speed are also key here, what with it being nearby so many offices. You tick out all your desired ingredients off the menu, then pass it to the counter for them to start building your bowl and your lunch will be ready within minutes!
Despite Agrain being inside of an office building, don't worry about dining there.
This little open space restaurant gives out a happy and welcoming vibe, it's pastel shades taking away intensity from a hectic working day. Was quite an enjoyable sit in.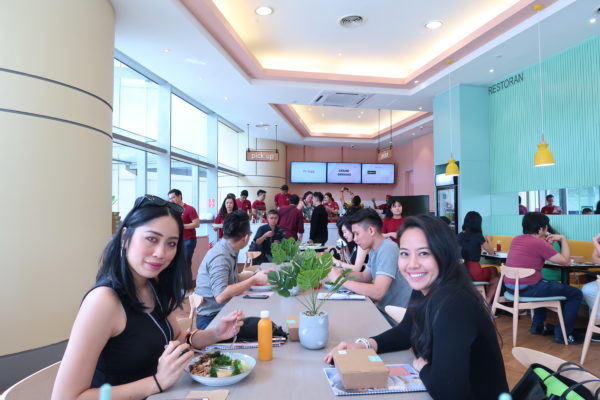 One of the things we appreciated was Agrain's meticulous ingredient sourcing, trying to get the freshest ingredients locally sourced and as sustainable as possible. A prime example is Agrain's noteworthy Australian grass fed beef. Vegetables come from Cameron Highland's supply and a grain you'll see a lot here is Eco Brown's Steamed Brown Rice, another neat ingredient line to pacify our Asian gastronomical demands.
You guys should note that brown rice is basically unpolished white rice, with the bran and germ portion intact. The polishing process, while promotes better storage and produces a less chewy rice texture, does remove 90% of rice's original nutrients. Which is such a shame, because it means you're mainly just consuming empty-nutrient carbohydrates.
Great ingredients coupled with natural cooking methods produced a pretty impressive array of dishes that you can mix and match. You'll also be glad to know that there are no deep frying and use of MSG in Agrain.
Food Highlights at Agrain
We gave the baked salmon and the honey soy chicken thigh a try.
You get exactly what you order when you get the salmon. Unadulterated, the natural flavour of the salmon sings through the dish, mild but authentic. The honey soy chicken though, packs a punch, but at the same time remains superbly tender so you don't get tired of a chewy texture.
Other highlights were the Eco Brown Rice. If you're worried about healthy food not filling you up to last the day, fret not, Eco Brown rice does it's job brilliantly, albeit being a tad bit tougher than we would like.
Agrain's signature green curry source did not disappoint, giving the entire dish a drizzle of tantalising flavour.
Great news for those who'd like to partake in the delicious and convenient consumption of Agrain's dishes, there is no minimum order and delivery around the Klang Valley is FREE! You can make your first order here.
Overall, brilliant job here. Love the taste, portion, health benefits and of course, the price 🙂 Will definitely be one of the top food choices when we come back to Mid Valley!
First one in the comments sharing your favourite healthy spot in KL gets a free bowl from Agrain worth RM13.90 with any purchase!
We hope you benefit greatly from this article of Agrain @ Gardens North Tower. If you want more, here are some Surprisingly Affordable Healthy Food Deliveries in KL.
If you have a great tip on how to get fit and live healthy in KL, do share it in the comments below, however insignificant you think it might be.
Your tips might not even occur to others and may make a huge difference in the life of another.
So let's cultivate that Malaysian sharing spirit and help each other out in our universal strive for personal fitness!
For more tips and tricks on how to get fit, specifically in KL, subscribe and we'll send you useful advice, articles and videos to help you keep your fitness level up!
Welcome to this journey to better health!