Urban Spring is a boutique wellness and Pilates studio with state-of-the-art equipment and dedicated, experienced instructors.
Carefully designed as a sanctuary for city-dwellers, Urban Spring houses a relaxation lounge with Big Tomato beanbags, and shower and locker facilities for men and women. It's calm, relaxing façade is punctuated with the intense workout sessions it offers.
What's Special about Urban Spring?
What's special about Urban Spring is two-fold. First off is their Xtend Barre classes, a unique combination of ballet, Pilates and aerobics. And second are their Hot Mat Pilates, Pilates done in a studio perfectly heated between 38-40 degree Celsius.
Work out sequences change on weekly basis to keep it fresh and varied.
Their trainers come from all over. Mainly from Malaysia, Philippines, Russia. Occasionally they have guest instructors from Hong Kong and Australia as well.
Urban Spring's Workout Types
We gave three of their classes a try and here is what we thought.
Urban Spring Workout Type #1: Hot Yoga
It was definitely a steamy experience.
Review of Hot Yoga at Urban Spring
The room was set to a temperature of 40 degrees and your body will instantly begin glistening with a first layer of sweat.
The class starts with a simple warm up to bring your mind and body to ready itself for an extensive stretching experience. The slow and steady pace is accompanied by relaxing music that calms the mind and the body, allowing deeper focus on the movements that followed.
We started with basic moves like the child's pose, downward facing dog, the warrior 2 position, triangle, tree and planks and moved on to the more complicated ones like the high lunge, extended hand-to-big-toe pose, Bound Triangle Pose, Three Legged Downward Facing Dog and many more.
It was definitely a test of flexibility and strength. You'll feel your core tightening as you struggle to hold these poses and at the same time stave off the heat that your body feels like succumbing to.
Benefits of Hot Yoga
The health benefits of the heat in hot yoga have not been entirely confirmed but some studies suggest that the heat may help in terms of heart health and lower blood pressure while other see a relationship between the heat and an increase in metabolic rate.
But generally, applying heat to our muscles increase our range of motion so you may find yourself slightly more flexible during yoga in a hot room compared to one with regular temperature.
Note that you should most definitely bring along a towel and a bottle of water. I guarantee you don't have to wait till the end of the class to be sweating buckets.
Urban Spring Workout Type #1: Xtend Barre
Quite the opposite from the hot yoga class, the Xtend Barre is upbeat and fast-paced, guided by music. You'll be moving through plenty of movements, there is no time to get bored.
Review of Xtend Barre at Urban Spring
During the hour of exercise, we worked upright with weights, on yoga mats, with an exercise rubber ball, at the barre, on our knees, on our toes, in every which position you can get into. I would say that Xtend Barre is like a combination of aerobics and ballet.
It puts you into graceful movements and positions but with the speed and agility of an aerobics dance class.
So I guess you get the best of both worlds.
Benefits of Xtend Barre
The ballet version of it offers strength, whereby the constant pliés will absolutely burn out those glutes and quads. Mind you, your legs will be shivering by the time you walk out of there.
And the aerobics part encourages stamina build-up. You'd have to keep up with the sometimes-frantic pace of the exercises and that will sharpen your body's reflexes and keep your heart pumping through the hour.
It's been about 12 hours after my class and I can already feel the soreness building in my butt and upper thighs. Ladies, beauty and grace does indeed come with the price of pain.
Do note that you'll have to bring along a pair of non-slip socks. If you don't have any, you can purchase a pair at Urban Spring itself.
Urban Spring Workout Type #3: Pilates Reformer
We also tried the Pilates Reformer class with the sweet as pie, Karen.
The reformer is a Pilates equipment invented by Pilates founder Joseph Pilates during the First World War to aid injured soldiers in regaining their health by stretching, strengthening and stabilizing key muscles.
It has a bed-like frame with a flat platform on it, called the carriage, that rolls back and forth on wheels. The carriage is attached to one end of the reformer by a set of springs. These springs provide choices of differing levels of resistance as the carriage is pushed or pulled along the frame.
Benefits of Pilates
The benefits of using the reformer to carry out your Pilates exercises is that it trains overall strength, flexibility, coordination, and balance. These things will lead to daily life improvements like better posture, graceful and efficient movement, and for many, relief from pain associated with physical imbalances such as back pain.
Also, for those looking to build a strong core, the reformer is a brilliant equipment to help you do so. Because its surface is mobile, you require more strength to keep yourself steady and stationary as opposed to doing the same exercises on the floor. The emphasis is on having fewer, precise, controlled movements rather than increased repetitions without the necessary techniques or details.
Done with correct breathing and alignment, Pilates builds strength, flexibility and lean muscles with an emphasis on lengthening the body and aligning the spine, rather than on bulking and shortening the muscles.
Also, because of the adjustability of the springs in the reformer, you can vary the resistance of the exercises according to your preference and what muscle groups you'd like to focus on.
Review of Pilates Reformer at Urban Spring
Karen was really detailed and helpful walking us through the exercises. Her descriptions on how to perform particular types of movements are precise and succinct. We had no difficulty following her instructions and got a really great and tough workout from the class.
There was a lot of exercises that focused on the quads, you'll feel a slow but sustained burn from your thighs because of the controlled speed of the exercise. You'll have to hold certain positions and move through them slowly which train your muscles' stamina and endurance as opposed to going through a quick paced workout.
We did planks using the reformer as well, which proved way tougher than doing planks on the floor. Also, planks on the reformer was much more interesting because we could do plank variations and additional movements in the plank position that we cannot usually do on the floor because of the versatility of the machine.
The slow and controlled movements will teach your body to handle sustained pain and soreness on the muscle and not collapse during. Definitely helpful for those looking to build a strong core and tone those glutes and quads.
Urban Spring's Facilities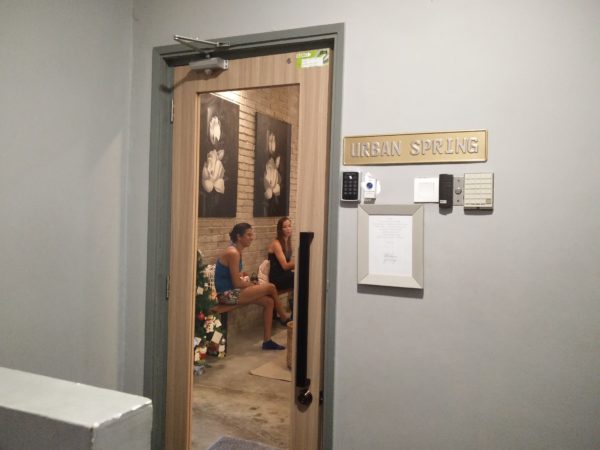 Located at Jalan Bangkung, Bukit Bandaraya, Bangsar, I found Urban Spring's décor pretty stunning. Definitely made for an upmarket clientele, their comfortable and sophisticated waiting rooms were all furnished with cozy and tasteful seating, bean bags and a calm, relaxing atmosphere.
Facilities are adequate. Nothing too high tech, but what's great about it is that it's clear that a lot of thought was put into the design of the rooms and space. It really was a beautiful gym, perfect for those after-workout selfies if that's what you're into.
Gyms not your thing? Check out these Top 17 Fun Indoor Activities to Get Fit in KL Instead of Hitting the Gym!
If you have a great tip on how to get fit and live healthy in KL, do share it in the comments below, however insignificant you think it might be.
Your tips might not even occur to others and may make a huge difference in the life of another.
So let's cultivate that Malaysian sharing spirit and help each other out in our universal strive for personal fitness!
For more tips and tricks on how to get fit, specifically in KL, subscribe and we'll send you useful advice, articles and videos to help you keep your fitness level up!
Welcome to this journey to better health!