The Poké's Past
Stemming from Hawaiian roots, poké (pronounced poh-kay) means "chunk" in Hawaiian.
It began as a fisherman's food, where they used to season the cut-offs from their catch to serve as a snack.
Typically poké is composed of any meat or seafood cut into small chunks and marinated, the staple having cubes of raw ahi tuna, tossed with green and white onions, sesame oil and soy sauce.
Traditional poké seasonings have been heavily influenced by Japanese and other Asian cuisines during Japan's invasion of Hawaii during the Second World War.
Today, this deeply rooted dish strives to provide a healthy and well balanced meal, all in one bowl.
This guilt free indulgence is both a treat and at the same time, clean fuel for the body.
A creative twist of the salad, poké is perfect for the wellness enthusiasts out there, craving for a fun alternative to a healthy meal.
Once set up with all the different ingredients, the poké bowl will be a visually stunning food ensemble that avid Instagrammers will fall in love with.
After you're done with all the picture taking, time to mix the entire collection up before you take that delicious bite!
The rice, the meat and the side vegetables will dance together harmoniously in your mouth creating a burst of flavour that'll leave you wanting more.
And without further delay, here are our Top 6 Poké Bowl Spots in KL! Hope you'll enjoy them as much as WE did!
Poké Bowl Spots in KL #1: Kurin @ Nu Sentral
How Kurin Began
A band of brothers.
Kenny Kang, Jason Lee and Ying Zhao, the brains behind the operations of Kurin.
What began as a small healthy food delivery project took full form August 2017 as a bright and bold healthy food joint in the middle of KL city. Nu Sentral to be exact.
After studying in UK and upon return to Malaysia, Jason found the dire need for clean and tasty food in KL.
Tasty was key here, because clean eating to them has to have flavour for it to be sustainable, especially to the Malaysian audience.
He's absolutely right folks.
We do LOVE our flavour.
Having grown up on MSG, it's supremely difficult to go cold turkey and cut all means of flavour from our diet. It just isn't done.
So Kurin created a critical balance of tasty and healthy. Perfect for the Malaysian trying to eat healthy.
A lot of factors kick-started their venture; government policies to clamp down on obesity, people getting more health conscious, nationwide goals to get the country fitter and in shape.
That was enough to push them off the edge, and hence, one of the top Poké Bowl Spots in KL, Kurin, was born.
What makes Kurin's Poké Bowls Special?
Made fast and fresh, the poké options here are fantastic.
Their fresh Norwegian salmon are to die for, so for you fans of fins out there, be prepared to be floored by the poké offerings here at Kurin.
Cool, fresh and soft with a bouncy-like, supple texture, you won't be able to stop yourselves from wolfing down those marvelous morsels of meat.
As epic as the salmon was, you should definitely give the torched tuna with wasabi mayo here a try.
Prepare to get your minds blown!
The tuna is lightly torched to create a slightly charred outer layer, dripping with naturally sweet tuna oil, while the inner portion remains raw and chilled. The combination of that cooked layer of tuna with its soft and silky insides tangoing intimately with the creamy and sharply spicy wasabi mayo gives the entire mouthful a delightful and satisfying twist of flavour.
An impressive amalgamation to say the least.
There is a definite win here in terms of texture and taste.
A lot of tuna can be hard and chewy, but Kurin's is soft, tender and sweet.
The protein plated atop a colourful bed of greens, cherry tomatoes and corn makes this already mouth-watering bowl even more palatable.
Kurin's tasty Japanese rice also significantly adds pleasure to the entire affair.
Price: RM19 for a regular and RM24 for a large
Location: 201, Jalan Tun Sambanthan, Brickfields, 50470 Kuala Lumpur, Wilayah Persekutuan Kuala Lumpur
Delivery Range: KL & PJ
Website | Facebook | Instagram
Poké Bowl Spots in KL #2: Fat Fish @ Mont Kiara
How Fat Fish Began
After working in supply distribution for Japanese fish products for 10 years, Lam Ee Von decided to venture into the food and beverage industry by creating her own fresh seafood joint in Mont Kiara.
With the catchy name, The Fat Fish, it has every intention of emulating the role of a cosy neighbourhood deli that you'll go for fresh seafood and more! It aims to make high quality seafood, affordable and easily available to the masses.
With a bevy of seafood selections, trout from Norway's sustainable fish farms, oysters from Ireland, France, UK, Australia and New Zealand, and fish and shellfish from Japan, The Fat Fish prides itself on the freshness of their seafood. As they aptly put it, "Any fresher and it'll be alive"!
So obviously, we had to give their poké bowls here a try!
What makes Fat Fish's Poké Bowls Special?
The first thing that struck us about their bowls was their clear Japanese influence. It was very much unlike the messy throw together look of the traditional poké.
Rather, their meticulous presentation, striking colours and exquisite arrangement blew us away. It's no wonder instagrammers are flocking to this place.
We tried their Sesame Colours (RM25) and Rose In the Garden (RM28).
Rose In The Garden was a dish with Tuna as the main event.
Fresh tuna dipped into special sauce right before serving, it certainly did impress.
The sauce really brought out the natural taste of the tuna. For those who don't prefer tuna eaten raw, this is definitely the best way to go about marinating it. So much yum!
But what stole the show was the Sesame Colours Poké Bowl.
Fresh Norwegian salmon gracing the bed of greens, the colourful composition of the dish is enough to make anyone's mouth water.
The game of marination is strong with this one.
I usually prefer my salmon fresh and as is, but the chef's special sauce the salmon is dipped into right before serving, perfectly complimented the salmon's natural flavours making it an extremely enjoyable eating experience, earning The Fat Fish it's place on the list of best Poké Bowl Spots in KL.
Price: RM25 – RM28
Location: 15-0-5 Shoplex Mont' Kiara, Mont Kiara, 50480 Kuala Lumpur, Wilayah Persekutuan Kuala Lumpur
Delivery Range:
Website | Facebook | Instagram
Poké Bowl Spots in KL #3: Lush Bowl @ Sri Hartamas
How Lush Bowl Began
Siew Suet Sim, the mastermind behind the creatively curated brand of Lush Bowl singlehandedly crafted the entire exquisite menu that we now know and love from scratch.
And that was how Lush Bowl began.
Truly a labour of love, Lush Bowl first opened its doors to the public 6 months ago at Plaza Damas, Sri Hartamas.
With every intention of revolutionizing the way people think about healthy eating, Sim fabrication a fashionable find of healthy, customizable and interesting line of dishes that diners would love to explore, experiment and thoroughly enjoy.
What makes Lush Bowls' Poké Bowls special?
Sharing her love for sashimi bowls, Sim serves only the best!
With fresh ingredients handpicked from the morning market herself, Sim presents splendidly sorted sashimi bowls.
Did I mention that her salmon is delivered four times a week? That's an impressive level of effort to preserve the freshness of the protein, and its effects does go a long way in terms of taste.
This Norwegian salmon is sliced fresh and dipped into a soy sauce containing truffle infused with the citrus tones of Yuzu, just before serving. This creates a magnificent enhancement to the already mouth-watering natural flavour of the salmon.
Given the play of sauces and flavourings here, I would say that the Japanese soul lives strong within the poké bowls of Lush Bowls.
Keeping things as light and clean as possible to highlight the ingredients' natural taste, no unnecessary sauces are added to the bowl.
No MSG, no preservatives. Just good old fashion salt, coconut oil, olive oil, and even some Bentong ginger for taste.
Think what really made the poké bowls at Lush Bowls stand out besides their pretty unique marination of the salmon, was their option of cauliflower rice.
Man oh man, let that blend sing to your taste buds. Full of flavour but still exuding simplicity, the 'rice' here is made with a cauliflower blend cooked with vegetable stock. Plus olive oil, salt and pepper to taste. This paired incredibly well with the sashimi slices.
If you have to give up rice for your diet, say hello to your new best friend. Super low in calories too! If you order your poké bowl with the cauliflower rice option as base, you'll only be consuming 350 calories of pure goodness.
Talk about tip top quality ingredients that are true to their taste, which makes Lush Bowls one of the best Poké Bowl Spots in KL.
Price: RM21 – RM27
Location: G-0-3 & 1-0-3, Block G, Plaza Damas, 60, Jalan Sri Hartamas 1, Taman Sri Hartamas, 50480 Kuala Lumpur
Delivery Range: Sri Hartamas
Poké Bowl Spots in KL #5: The Fish Bowl @ Bandar Sunway
How The Fish Bowl Began
A trip to Singapore and spotting the poké culture there, was what sparked the birth of The Fish Bowl in Malaysia.
Nestled neatly in the heart of Bandar Sunway, stands The Fish Bowl, with its bright and minimalistic interior design, hitting us hard with the wave of the poké as one of the epic poké bowl spots in KL.
What makes The Fish Bowl's Poké Bowls Special.
With natural ingredients prepared daily, warm rice and fresh cool toppings, a Poké Bowl here will primarily have these three components: carbohydrates, in the form of brown or Japanese white rice; protein, from a selection of salmon, tuna, shrimp and chicken; and fibres, joining the mix to provide all the vitamins your body needs, as well as to brighten up the bowl.
Shoyu Salmon is the bestseller here, and it's easy to see why. The Norwegian salmon served is immensely tender, a delectable treat to the taste buds. The Fish Bowl's rendition of sashimi is truly satisfying, you can't help but want seconds.
Kaffir Lime Salmon is salmon soaked in kaffir lime juice. Giving the meat added zest, the citrus adds body and flavour to the meat that you'll be sure to appreciate.
Our personal favourite poké bowl however, was the Spicy Sirracha Salmon. Deliciously coated with sirracha hot sauce, this condiment coupled with the sprinkled chilli flakes, gave the succulent salmon meat a spicy, playful kick.
The tuna here is served with Shoyu and you can opt for it to be spicy. Brought in from Japan, the meat here is soft and juicy, fresh and only slightly marinated so you can savour the natural luscious flavour of the fish.
The sides make the whole meal a little more fascinating.
Matching the ingredients to the fish is like pairing food and wine together to produce a harmonious flavour. Pineapple cubes add extra sweetness to the dish while almonds and the fried shallots pack a crunch. Pickled ginger and radish create a fun twist to the taste of the rice and the meat, while the ebiko and wasabi infuse a little bit more of a Japanese character.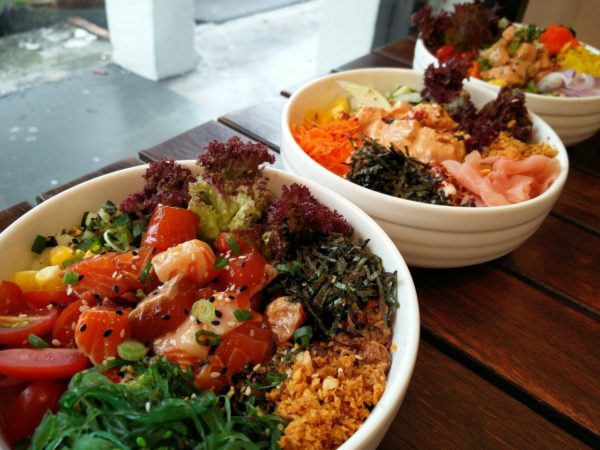 So feel free to mix and match! It's all part of the dining experience at The Fish Bowl.
Price: RM17.90 – RM23.90
Location: 77, Jalan PJS 11/9, Bandar Sunway, 46150 Petaling Jaya, Selangor, Malaysia
Delivery Range: Klang Valley and KL
Poké Bowl Spots in KL #6: Paper Fish @ TTDI
How Paper Fish Began
Founders Ryan Too, Bryan Lee, Nick Alec enjoyed the poké bowl in Hawaii so much, they HAD to bring it back home to Malaysia. Hence how it came to be another one of the epic Poké Bowl Spots in KL!
Fascinated by the Japanese influence on the Hawaiian traditional poké, the trio kick-started Paper Fish, a poké line of healthy fast food.
Uncomplicated in nature, Paper Fish seeks to be a place that serves clean, fresh and wholesome produce, all in one bowl.
The same simplicity echoes throughout their store.
The uncluttered space, the minimal furniture and the clean colours, you'll feel really comfortable dining in Paper Fish.
Incorporating Japanese influence in their store, with origami pieces of folded paper fish decorating an entire wall, simplicity of their poké servings and friendly service, Paper Fish is definitely a catch in the TTDI area.
What makes Paper Fish's Poké Bowls Special?
I think Paper Fish is a pretty neat place that the folk of TTDI are very fortunate to have. I mean, these were the winners of the Tiffin Throw Down, Battle of the Poké Bowls 2017. Clearly, they are serving good stuff here as one of the tip top poké bowl spots in KL .
But most importantly, they make clean eating hassle free, in the form of poké bowls.
Their friendly staff provide warm face-to-face service as you place your order, similar to that of Subway's.
A great thing about this place is the fact that they include quinoa as an option for their base. So if you're cutting carbs and want to avoid the high starch content of rice, Paper Fish is perfect.
Everything in the store is made fresh and prepped daily. And they are very strict with the supply of ingredients that come through their outlet.
For those who want to reduce calorie intake and live the lean life, you'll find an amazing balance at Paper Fish, where one bowl of poké contains around 400 to 450 calories, and is composed of all the nutrients that you'll need for a healthy daily diet.
While you're here, you must try their Shoyu Salmon or Spicy Salmon (if you'd like a spicy kick to go with your meal).
Super yummy, I was a fan of a few of their sides, most notably the crunchy tempura. A very unique addition to the bowl. That was the highlight in terms of taste for me, that satisfying crunch brought the dish up a few points!
The portion of fish here was the largest compared to the rest of the list, but I cannot say the same for the freshness of the fish.
Watch out for Paper Fish's upcoming tortilla wraps series!
And if you drop by during lunch or dinner, ask for their value meal, whereby you top up RM5 and you get one miso soup and a drink to go together with your poké bowl.
Price: RM17 – RM28
Location: 26, Jalan Datuk Sulaiman, Taman Tun Dr Ismail, 60000 Kuala Lumpur, Wilayah Persekutuan Kuala Lumpur
Delivery Range: TTDI (6km radius from the store)
Website | Facebook | Instagram
Poké Bowl Spots in KL #4: Poké Bear @ Sunway Pyramid

What makes Poké Bear's Poké Bowls Special?
Well Poké Bear definitely deserves a star in terms of flavour.
Probably one of the tastiest poké bowls spots in KL, the yummy composition of colour and flavour totally won us over.
Crispy and tantalizing salmon skin, a superb addition to the bowl, gave it a sweet and satisfying 'keropok-y' crunch. Minus the oil and guilt! 😉
Poké Bear's bowls are much flatter that the rest we had, so eating out of it was pretty effortless, no spillage in sight, and the portion was pretty impressive. One bowl here will definitely fill you up!
Its amalgamation of fresh ingredients was delightful to mindfully devour. We especially enjoyed the crunchy onion flakes, the non-overpowering spicy mayo sauce and the avocado cubes.
Do watch out for the wasabi here! Really packs a punch. Accidentally pop a smidge in your mouth and you'll end up in tears like we did!
The salmon freshness is so so, but overall, Poké Bear's poké bowl is very impressive.
Definitely worth a revisit!
Price: RM18
Location: Sunway Pyramid, Jalan PJS 11/15, Bandar Sunway, 46150 Petaling Jaya, Selangor.
Delivery Range: Bandar Sunway
We hope you benefit greatly from this article of Top 6 Poké Bowl Spots in KL.
If you have a great tip on how to get fit and live healthy in KL, do share it in the comments below, however insignificant you think it might be.
Your tips might not even occur to others and may make a huge difference in the life of another.
So let's cultivate that Malaysian sharing spirit and help each other out in our universal strive for personal fitness!
For more tips and tricks on how to get fit, specifically in KL, subscribe and we'll send you useful advice, articles and videos to help you keep your fitness level up!
Welcome to this journey to better health!