So for all of you who were on board with the kombucha fad, I skipped that train and went straight to kefir, hence this piece on The Kefir King.
What the heck is Kefir?
Kefir is a sister of kombucha, but even MORE potent in terms of nutrition content and number of probiotic strains.
Alright, to educate you guys about kefir, let me break it down for you. There are two types of kefir. One is Water Kefir, and the other, Milk Kefir.
They are made with different grains and have different bases. The milk kefir is made with milk kefir grains with a milk base whereas the water kefir is made with water kefir grains with a base of water and sugar.
In a nut shell, the grains are placed in their respective bases and they 'ferment' or 'digest' the milk or water and sugar to become much more nutritious versions of themselves, creating vitamins and strains of good bacteria in the process. The end result is pretty badass.
I'll break down the numerous benefits of Milk Kefir below.
Benefits of Milk Kefir
It's super rich in PROBIOTICS
Improves gut health and your digestive system
Improves BRAIN function
Great alternative for LACTOSE intolerants
Amazing NUTRIENT content
Prevents OSTEOPOROSIS
May Help Prevent CANCER
Weight LOSS
You can read more in detail about Milk Kefir Benefits here.
Benefits of Water Kefir
Great source of PROBIOTICS
A great ALTERNATIVE to SODA
It's vegan!
Testing The Kefir King – Milk Kefir Range
As you can see, the nutritional benefits of Milk Kefir are way longer. In fact, it's been known to be one of the most powerful sources of probiotics on the planet, so we had to give it the first try.
We tested the Original Milk Kefir (RM12) from The Kefir King and boy were we impressed. Milk Kefir is notoriously known for its tangy and sour taste, but the concoction by The Kefir King was pretty decent. Granted, it didn't taste delicious, but being the most nutritious form of probiotics in food, think we've gotta give and take a little 😀 Plus, a great way to enhance its taste is to incorporate it into a smoothie! You can watch some fun how-to videos here.
The Orange Infused Milk Kefir (RM13), was surprisingly delicious! Wow, kudos to The Kefir King to find a flavour that completely complements the tangy taste of original milk kefir. Think this might be the turning point whereby even we, Malaysians with our 'spoiled tastebuds', can start enjoying this healthy probiotic drink.
Testing The Kefir King – Water Kefir Range
The Water Kefir on the other hand, was deeelicious. It was basically the perfect replacement for soft drinks. Even better than 100 plus *everyone gasps*. Yeap.
It was tasty, without being sweet. It had natural fizz (when you pop open the bottle, it sounds just like coke). So it was bloody refreshing. And it was full of nutrients and probiotics.
Essentially I could enjoy all the elements of a soft drink without having to face the guilt of the artificial additives and indecent amounts of sugar.
My mind was blown! Woohoo! Guilt free soft drinks, here I come!
I especially loved the Blueberry Water Kefir (RM8), was the tastiest to me.
But my colleague really enjoyed the Lemon Water Kefir (RM8). He liked the pleasing mix of sweet and sour.
The other flavour we tried was the Mulberry Water Kefir (RM8). I think that the Mulberry will be a hit with health nuts (that are better than me ><). It's made from fresh mulberries and has a very mild and 'healthy' taste (words fail me here). Guess you'll have to try it out for yourself 😀
Why The Kefir King is so special
The Kefir King brews their kefir with no artificial additives or preservatives and the sugar that they use to feed the water kefir grains are organic cane sugar and jaggery. So you'll be consuming something that's been made by some of the best stuff you can find.
Also, I just have to add, that kefir at The Kefir King is shockingly affordable. I mean, just around RM10 per day for better gut health that will profit you in the long run. Definitely a deal that I took.
You can also subscribe to a weekly delivery package if you don't want to forget ordering your kefir. Also it is cheaper with the subscription package, at LESS than RM10 per day!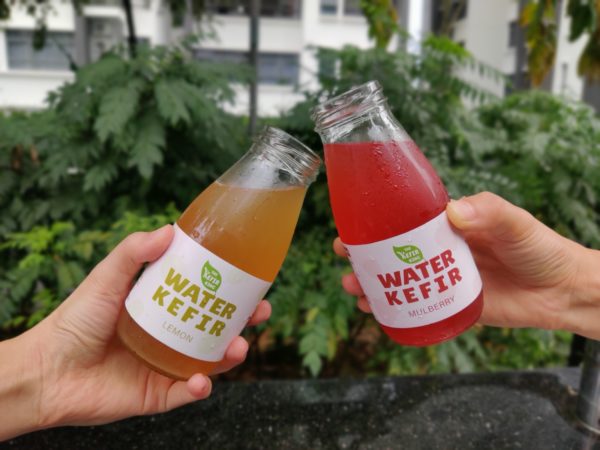 Contact: 012-9306108
Email: contact@thekefirking.com
We hope you benefit greatly from this article about The Kefir King. If you want more, here are some Surprisingly Affordable Healthy Food Deliveries in KL.
If you have a great tip on how to get fit and live healthy in KL, do share it in the comments below, however insignificant you think it might be.
Your tips might not even occur to others and may make a huge difference in the life of another.
So let's cultivate that Malaysian sharing spirit and help each other out in our universal strive for personal fitness!
For more tips and tricks on how to get fit, specifically in KL, subscribe and we'll send you useful advice, articles and videos to help you keep your fitness level up!
Welcome to this journey to better health!