How La Juiceria Superfoods Signature Began
After witnessing the amazing transformation of Joe Cross in the film Fat, Sick & Nearly Dead, Anabelle's eyes were open to the natural wonders of juicing.
Would we really be able to harness the powers of ordinary fruits and vegetables to craft extraordinary transformations to the human body?
So the founder of La Juiceria Superfoods, Anabelle Co-Martinent decided to put that hypothesis to the test with the help of her husband as a willing subject of her juicing experiments.
For three weeks, Anabelle explored with her husband, different juicing methods and recipes, creating a strict regime of juicing, absent solid foods, which resulted in his dramatic weight loss of 8 kilograms and a healthier physique.
What personally convinced her of the effectiveness of juicing was the speedier recovery of her second pregnancy while she was juicing, compared to her first, when she wasn't.
And the rest was La Juiceria history.
Today, we got to experience La Juiceria's most recent addition to the city of KL. La Juiceria Superfoods Signature, Nadi Bangsar.
This is La Juiceria Superfoods, but greater and grander.
This time with a private room so you can host events at this stylish and chic heck of a place.
The floor to ceiling windows beckoning a cheery vibe, it's minimalistic design deliberately balanced with a cosy and homey décor, perfect for families and kids to spend a lazy Saturday lunch.
What Makes La Juiceria Superfoods Signature Special
La Juiceria Superfoods Signature should top your list of places to go and grab a healthy fix, whether during the weekends or even for everyday lunch.
Real food, priced reasonably, this place is a real catch when you're looking to eat right.
With fresh, good quality ingredients that bring nutritional value to the body, and at the same time sit well with the average Malaysian's demanding taste buds, La Juiceria Superfoods Signature has managed to achieve that delicate balance of being delicious, nutritious and affordable.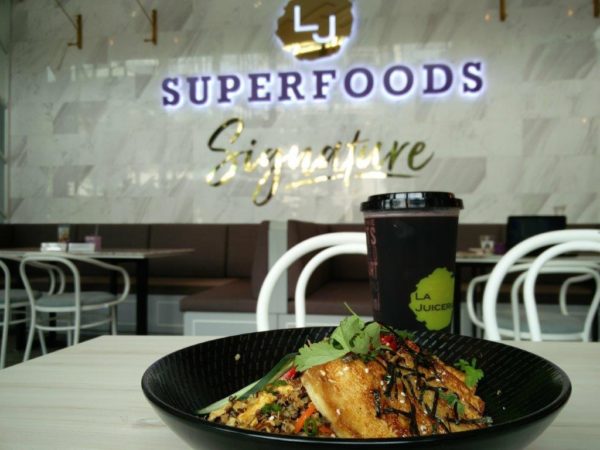 This is a place that keeps trying to please.
Constantly adjusting and innovating, La Juiceria Superfoods Signature constantly experiments with their menu, incorporating fresh meal ideas that cater to busy, health-conscious Malaysians.
Makes it very hard not to appreciate.
4 Must Tries at La Juiceria Superfoods Signature
La Juiceria Superfoods Signature Must Try #1: Quinoa Fried Rice (RM24)
Kudos to La Juiceria Superfoods Signature trying to introduce quinoa to Malaysians in an appealing and familiar manner.
Frying it to create resemblance to our beloved fried rice, La Juiceria Superfoods Signature attempts to redress this overwhelmingly rich carbohydrate dish with a suit of lesser evil.
This comes in the form of quinoa.
White rice, which we're all so fond of consuming every meal of every day is a refined starch, having a high glycemic index which hinders greatly efforts of weight loss.
Quinoa on the other hand proudly possess a naturally low glycemic index, which means it won't cause a spike in blood sugar like white rice does, making it the perfect rice substitute for diabetics.
Also, compared to white rice, one cup of quinoa contains 5 more grams of fiber and double the protein.
Because of its unique composition of fiber and protein alongside the carbohydrates, quinoa keeps you fuller for longer periods of time, so you're consuming both fewer calories per meal, and having less meals because quinoa is able to stave away the hunger.
Pairing the plainness of fried quinoa with the ubiquitous chilli padi, an abundance of leafy greens and shredded carrot, gives this dish an appetizing burst of colour.
A vegetarian-friendly protein accompaniment that sets the flavour for the dish is the absolutely delicious Teriyaki Tofu, it's smooth texture complimenting the grainy quinoa, its rustic flavours giving the dish a distinct character.
A fragrant fried egg and drizzle of fried shallots gives life to the entire ensemble, utterly enjoyable to our taste buds.
There was simply nothing to hate about this dish.
La Juiceria Superfoods Signature Must Try #2: Big Breakfast (RM28)
Like the Quinoa Fried Rice, the Big Breakfast's birthplace was La Juiceria Superfoods Signature, Nadi Bangsar, but is now rolled out to the rest of the La Juiceria Superfoods outlets.
A hearty breakfast platter, perfect for breakfast and brunch, you get a whole lot of natural, healthy ingredients to start your day!
You can choose between smoked beef or grilled chicken chorizo.
We went with the chicken, and my, was it good.
Baked warm, tasty and tender, these were no ordinary sausages.
The taste of real meat lingers in your mouth, intermingling with spices it was cooked in, went extremely well with the accompanying slice of toast.
The tomato relish also surprised and impressed. Went lovely when used as chorizo dip. Super yum!
The homemade hash browns were a delightful staple, stuffed full of real shredded potatoes.
Sautéed mushrooms and roasted cherry tomatoes on the side, surrounded the quivering, tantalizing poached kampung egg. We broke into the gloriously golden core with no remorse, letting the yolk run and add flavour to the entire dish's ingredients.
We were not fans of the Melbourne-inspired avocado and green pea mash, the slight bitterness of the peas not sitting well with the already balsamic tones of avocado mash. Would have preferred just the avocado mash, but you know, to each their own.
Definitely worth a try!
La Juiceria Superfoods Signature Must Try #3: Açaí Berry Bowl (RM24)
A definite upgrade from the last time we were here is La Juiceria Superfoods Signature's Açaí Berry Bowl.
Formally using acai berry powder to create this berry bowl, La Juiceria has taken the extra step to boost the nutritional value of this healthy smoothie snack.
Now using actual Açaí berry pulp important from Brazil, the smoothies they craft give off a deep maroon colour and a creamier, richer texture with a thick consistency that melts in your mouth.
The refreshing dessert bowl does everything to satisfy, with homemade granola giving the silky smoothie a satisfying crunch, banana slices adding a decadent sweetness to the blend, strawberries contributing a refreshing zest to the sweetness, and coconut shavings and chia seeds to complete this healthy bowl of smoothie goodness.
We thoroughly enjoyed every bite.
If you're a fan of Açaí berry smoothies, check out the link here for more awesome Açaí berry spots around KL!
Why La Juiceria Superfoods Signature is perfect for health and fitness enthusiasts?
In Malaysia, there are not enough healthy options around.
If you work out, and you want to eat clean, you can count with your fingers the number of wholesome food places you can enjoy, that is good for your body, easily accessible and won't break the bank.
There is a reason for this.
It's because it is very challenging to maintain a generous menu of fresh products. It's far easier to manage processed food, which is why you'll find mamaks, hawker stalls and cafes aplenty.
But when you talk about fresh food with their annoyingly short lifespan, it's a different ballgame altogether.
Making real food accessible, acceptable, and comfortable, where there are a variety of choices, so much so that a vegetarian can dine together with non-vegetarians is something that La Juiceria Superfoods Signature is trying to master.
So if you are trying to eat healthy, and when you absolutely HAVE to eat out with your friends, bring them over to La Juiceria Superfoods Signature, Nadi Bangsar.
You'll thank me for it because there is always something here for everyone.
For the health food skeptic, the carnivore, the body builder, the one constantly trying to lose weight, and even for those who demand a whole lot of flavour, La Juiceria Superfoods Signature will rise to meet your demands.
If you have no time to cook, or need to cater for a party, La Juiceria Superfoods Signature can deliver via Uber Eats, Food Panda and Honest Bee.
La Juiceria Superfoods Signature's Launches
There is a certain Melbourne influence tip-toeing into La Juiceria Superfoods, as can be seen from their coffee styles and big breakfast ingredients. So we can expect more of these to permeate into La Juiceria Superfoods Signature's menu.
With its ever-evolving menu, we'll have to keep up with La Juiceria Superfoods via Instagram and Facebook.
They are also launching a brand-new outlet in SS18, Subang Jaya in a few days! We'll let you know when to get excited about it!
We hope you benefit greatly from this article of La Juiceria Superfoods Signature, Nadi Bangsar.
If you have a great tip on how to get fit and live healthy in KL, do share it in the comments below, however insignificant you think it might be.
Your tips might not even occur to others and may make a huge difference in the life of another.
So let's cultivate that Malaysian sharing spirit and help each other out in our universal strive for personal fitness!
For more tips and tricks on how to get fit, specifically in KL, subscribe and we'll send you useful advice, articles and videos to help you keep your fitness level up!
Welcome to this journey to better health!